Official Conference Partner LOT Polish Airlines
We are very glad to inform you that discounted flight tickets are offered by the official conference partner LOT Polish Airlines.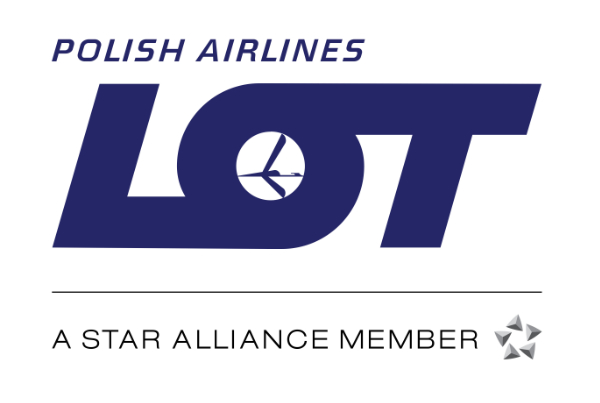 Promocode is: 06R2022
Event attendees and their travel partners can enjoy fare discounts up to 12% on ECONOMY CLASS, and up to 6% on BUSINESS CLASS and PREMIUM ECONOMY CLASS travel
Discounted tickets are valid for international LO operational flights to Warsaw
Travel period: September 1st – 10th, 2022
The discount does not include applicable taxes and additional charges
The discounts refers to one-way and return flights
The discount applies only to PLL LOT's operational scheduled flights (flight numbers: LO 01 to LO 3999)
The discount does not apply to promotional tariffs
Discounted tickets may be booked through above link on or before September 7th, 2022
PROMO CODE: 06R2022
travel period: September 1st – 10th, 2022
LOT Polish Airlines are pleased to inform you that we have prepared a special offer for participants of 7th EuroGeo conference and we do hope that it will meet your needs. Every year we host millions of passengers on board our aircraft, providing them with possibly the most efficient and most comfortable journeys to/from Poland to a constantly growing number of destinations worldwide. We are the airline in the Central Europe region offering direct long-haul flights to/from New York (JFK and Newark), Chicago, Toronto, Los Angeles, Miami (soon openning) Beijing, Tokyo, Seoul, Singapore. Warsaw is an efficient and competitive transfer air travel hub for Poland and Europe. Some US bond directions operate direct flights also to Krakow and nearby Rzeszow (180km). A well designed flight network, fast transfers, convenient departure and arrival times, plus an optimal location in the center of Europe with user-friendly airport infrastructure – these are the advantages that enable us to ensure extensive transfer opportunities and connectivity for the region. This is how we have built our leading position in Central and Eastern Europe. We have spread our wings – our fleet is one of the youngest in Europe and we are the only airline to operate all long-haul flights with the most cutting-edge aircraft in the world – the Boeing 787 Dreamliner. All our passengers travel in the way they want. Thanks to a wide range of classes, fares, products and services, we offer them great freedom to plan their journey based on their favorite, most useful and helpful elements. This also makes us the first choice airline for a growing number of passengers in the region. LOT is all about people – who are full of positive energy and the ability to successfully combine modernity with tradition. The best pilots, professional cabin crews and ground staff serve our passengers every day with commitment and smiles. We are proud to host you on board our planes.